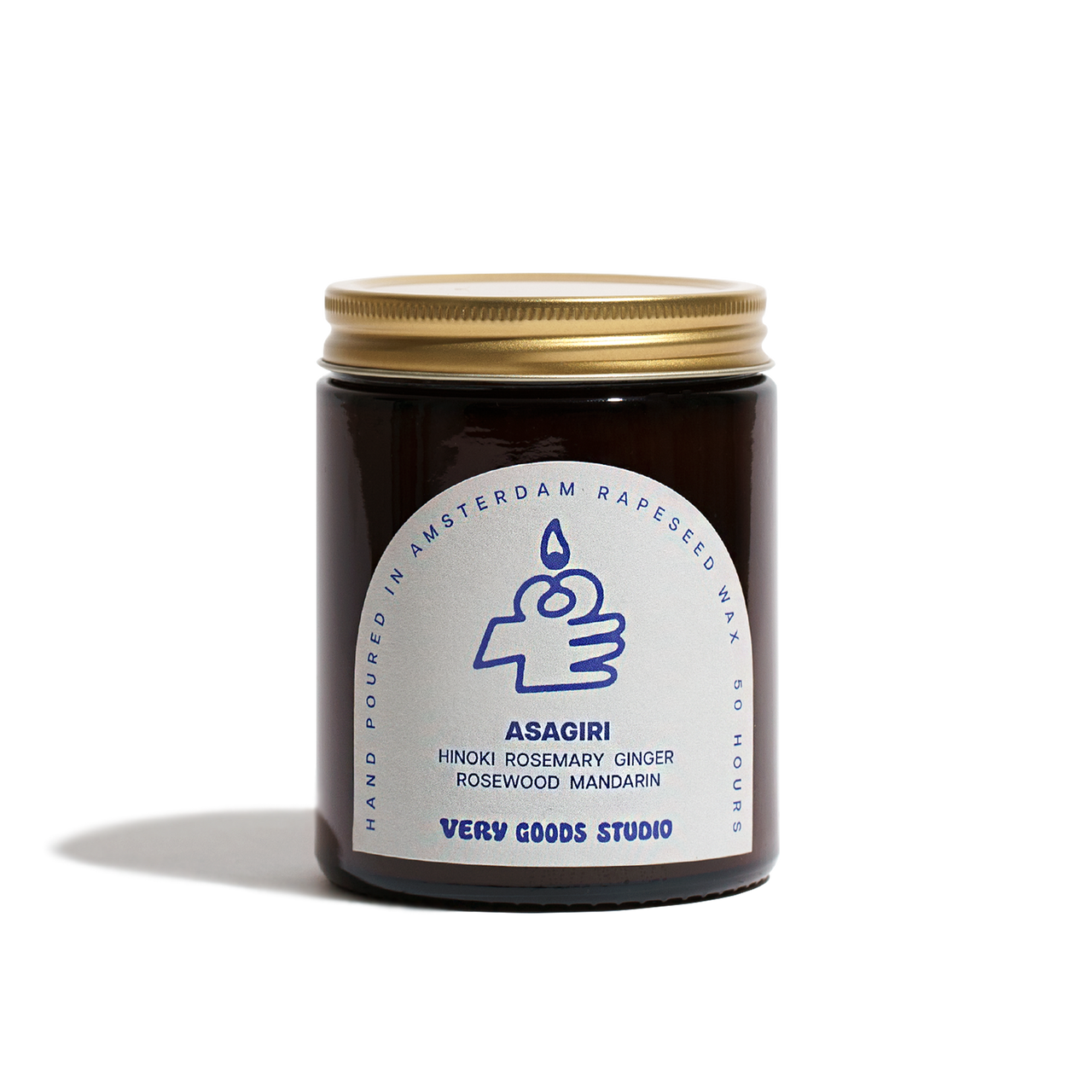 170 ml / 45-50 Hours Amber Glass Jars

Asagiri:  Inspired by the Asagiri Jam Festival, held on the foothills of Mount Fuji, Japan. Earthy and lemon-like aromas of Hinoki wood, herbal and minty rosemary, tranquil rosewood, spicy bite of ginger, mild citrusy mandarin and fresh basil, soothing notes of Asagiri will take you to a green ride.
Top: Rosemary, Mandarin Heart: Hinoki, Rosewood Base: Ginger, Basil

Indio: Inspired by the Coachella valley music & arts festival, held in Indio, California. With its balsamic and clean fir needle, earthy patchouli, tangy blood orange and smoky birch, one whiff of Indio and you will feel the desert heat
Top: fir needle, blood orange Heart: patchouli, bergamot Base: cedarwood, birch
Naeba: Taking inspiration from the magical fuji rock festival, held on the slopes of mount Naeba, japan. Potent freshness & citrusy tones of Japanese grapefruit yuzu, cool and clean tea-tree, herbaceous sage and a touch of sensual sweetness of ylang- ylang. One smell of Naeba, and you'll find yourself surrounded by the forests of Niigata.
Top: yuzu (Japanese grapefruit) Heart: tea-tree, sage Base: ylang-ylang
Pilton: Inspired by the one and only Glastonbury festival, held in Pilton, England. Soft and woody sandalwood, musky amber, earthy cedar, a hint of cinnamon, some hidden spices and a touch of raspberry. Bold and complex, yet calming, Pilton will take you on a walk through the green fields of SAomerset.
Top: sandalwood, amber Heart: black pepper, raspberry Base: cedarwood, cinnamon, bergamot
Stormur: Inspired by the Iceland airwaves festival, held in various music venues in Reykjavik, unique and refreshing ocean smell of seaweed, earthy-mossy aromas of oakmoss, minty and fresh eucalyptus and a touch of orange, stormur will bring the ocean breeze as soon as you open its lid.
Top: orange, oakmoss Heart: seaweed, eucalyptus Base: spruce